To embed an OpenSea NFT in Notion, simply copy the HTML code of the NFT and add inside your Notion-built website's page, wrapped between two "#EMBED" tags. That's it!
While it may seem complicated, let us tell you that it isn't. To convince yourself, keep reading this post, as we're now going step-by-step into the tutorial on embedding OpenSea NFTs in Notion.
1. Get an NFT's HTML code
First of all, go to the OpenSea.io website and find your favourite NFT. Once you're on the NFT's page, simply click the "Share" button.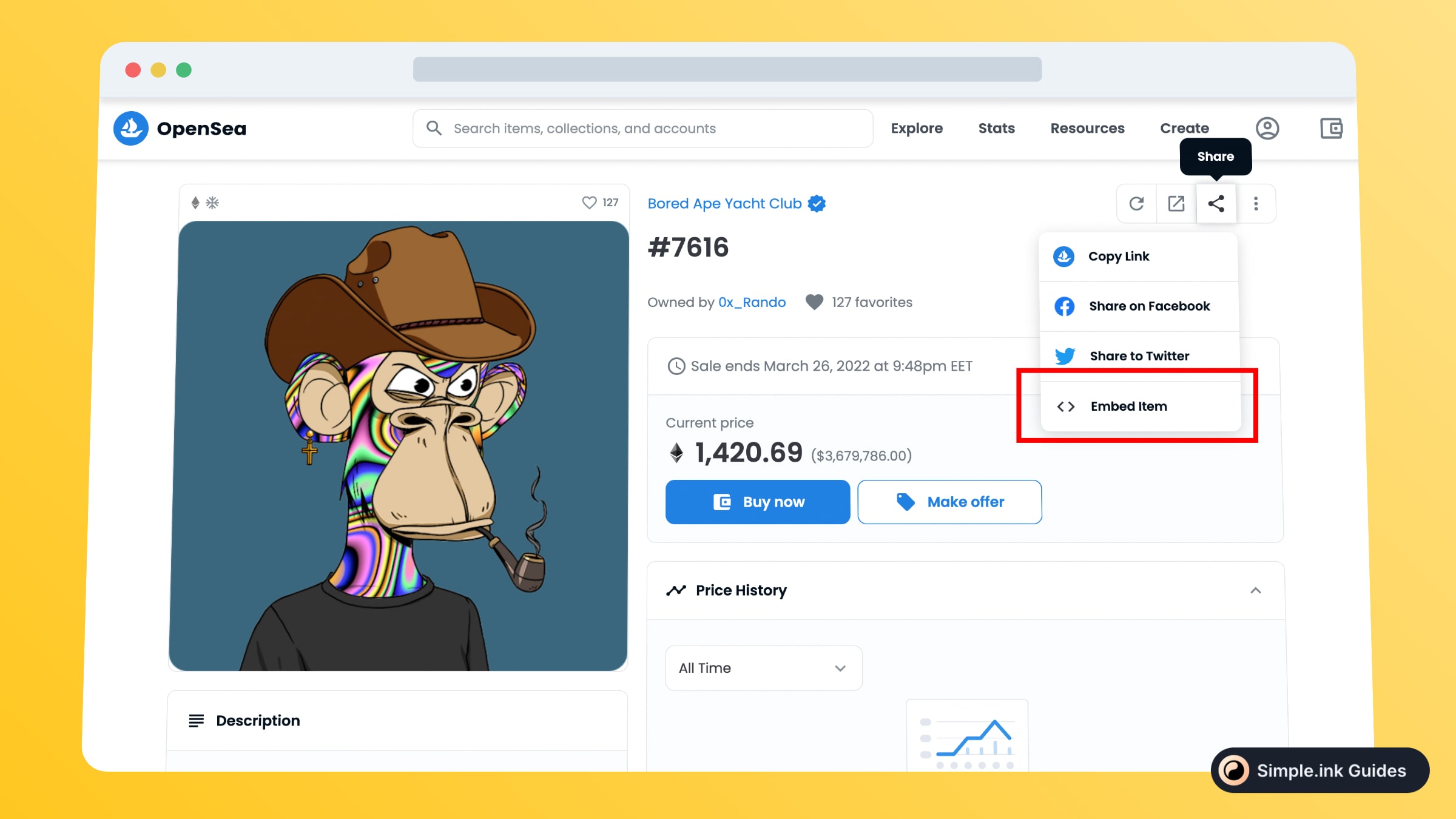 Then, you should see a dropdown with multiple ways to share the post with the NFT. Out of all, you want to select the "<> Embed item" button.
Clicking that button will trigger a new pop-up to be shown on your screen. This pop-up has the HTML code of the NFT's page, and what you want to do now is to copy that whole code.
Click the "Copy" button and keep the code in your clipboard, as this will be needed later, when we'll add the OpenSea NFT widget in Notion.
2. Build a Code block in Notion
Now you have to go to the Notion page where that hosts your Notion-built website.
If you don't have one already, make sure to get your free Notion website today. It's 100% free and it takes 10 seconds to build!
Now, inside your Notion page, you need to type "/code" and select the "Code" block from the dropdown list.
Click on the "Code" button in order to finalise building the block.
3. Embed your NFT in Notion
Next up, you'll want to do the following steps in the Code block:
Type "#EMBED"
New line -> Paste your NFT's code (previously copied)
New line -> Type "#EMBED" again
For your reference on how this should look, simply check this image below with the example NFT widget:
We need to keep this structure, as it only works with Notion-built websites. If you'll try this on a regular Notion page, you'll see how it won't work, because the code won't connect to the Simple.ink server.
You've finally reached the end of the guide. While you will always see the Code block in the backend of your Notion page, your public website's users will see the NFT embedded in Notion, like so:
Look at that! It's a widget of an OpenSea NFT added right inside a Notion-built website. So cool!
Being on this page, you've probably heard of NFTs already. If not, then let us first say that NFT stands for.
What is an NFT?
NFT means Non-Fungible Token. Think of an NFT as a unique item/property on the internet that can be purchased and held by one single person.
Heard of the NFT screenshot memes? Well, while you can replicate an NFT, the piece that you've made a screenshot after remains an individual's unique property.
OpenSea and Notion
OpenSea is basically the largest online market to buy, sell and trade NFTs. So, if you're a Notion.so user that likes NFTs, let us tell you that there is a way to embed an NFT in Notion.
The purpose of this post is to also guide you through embedding OpenSea's NFTs in Notion.